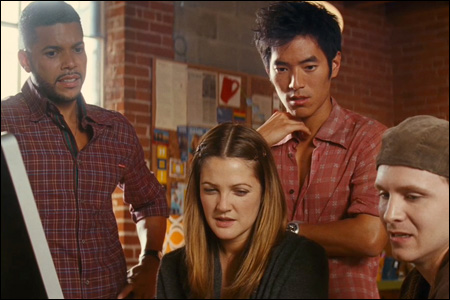 Now every single gal in a big city (at least according to Hollywood!) needs a trusting gay who will "tell her like it is!"
In the star-studded romantic comedy, He's Just Not That Into You, Drew Barrymore is surrounded by a gaggle of gay co-workers who dish out their "queen-like" advice: from My So-Called Life alum Wilson Cruz to Sisterhood of the Traveling Pants stud Leonardo Nam.
But while we love seeing Cruz and Nam in the film, we know many are upset that they are playing stereotypical characters, which Cruz denies.
"I didn't swish, my wrists were intact and I think I spoke without a lisp," he tells Queerty. "I wasn't playing a stereotype. I'd love to know what I did that was stereotypical."
And while Blindie applauds the film for hiring some of our favorite ethnic actors, we're still wondering why one of the lead male characters couldn't also be ethnic!
Read More